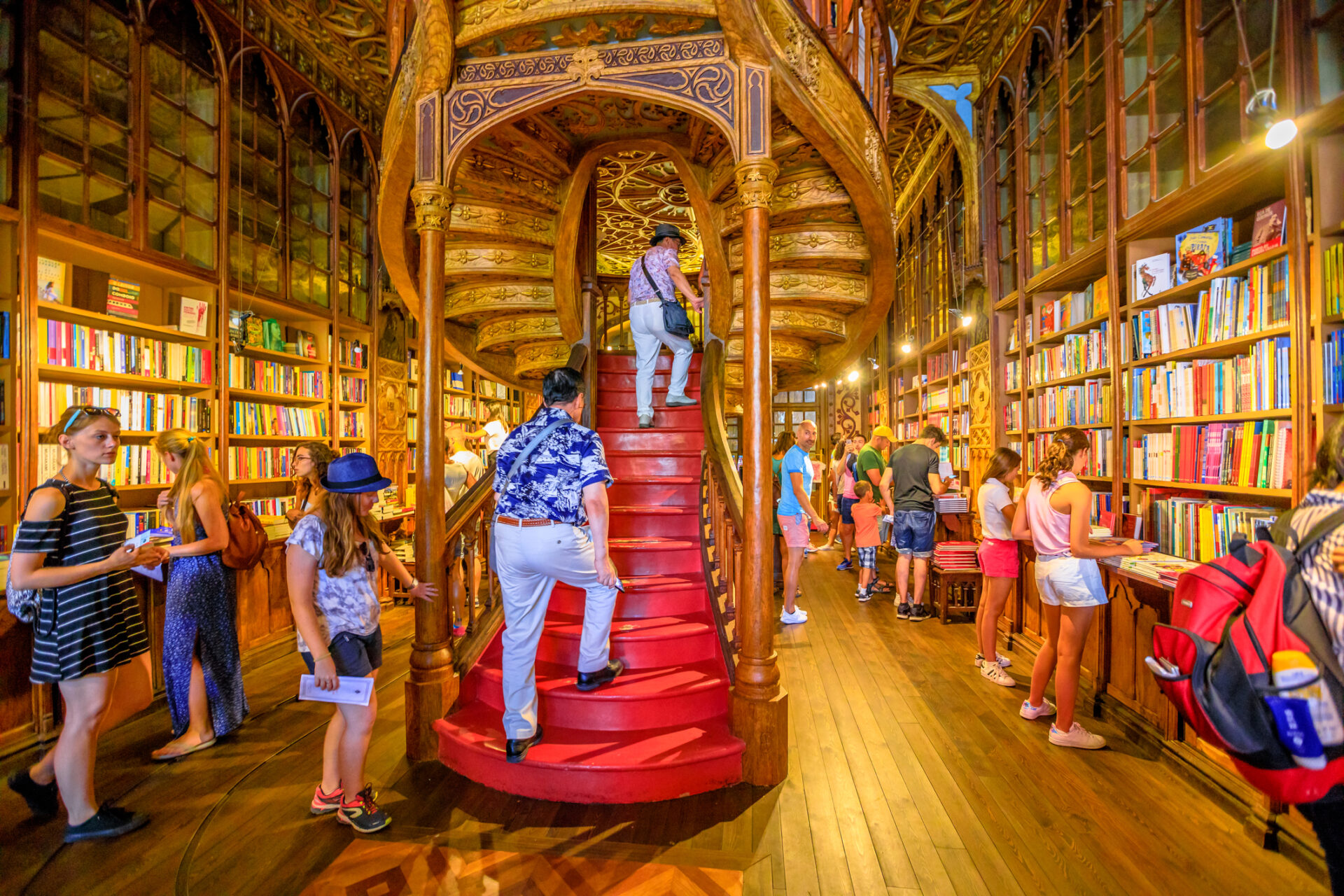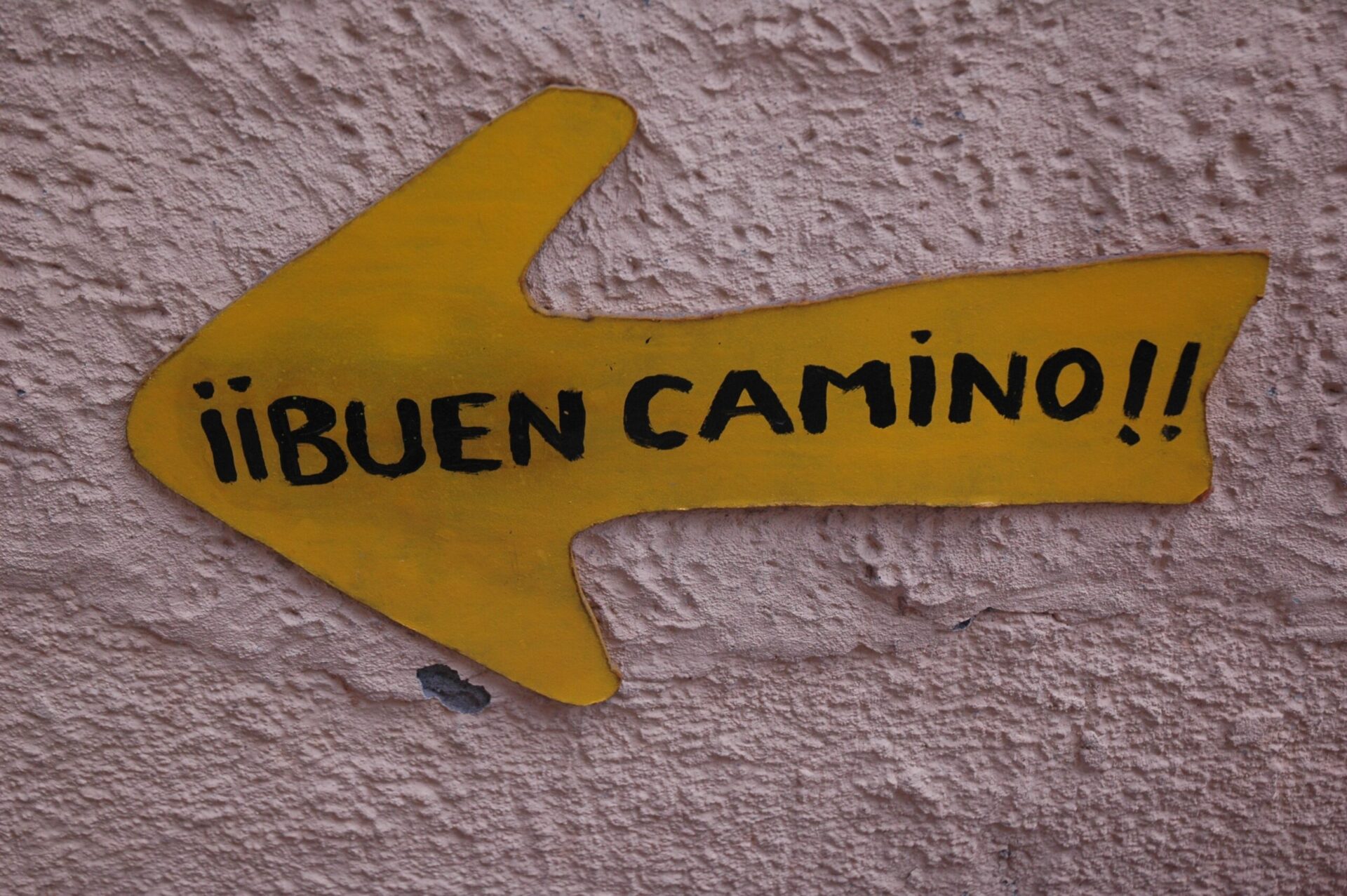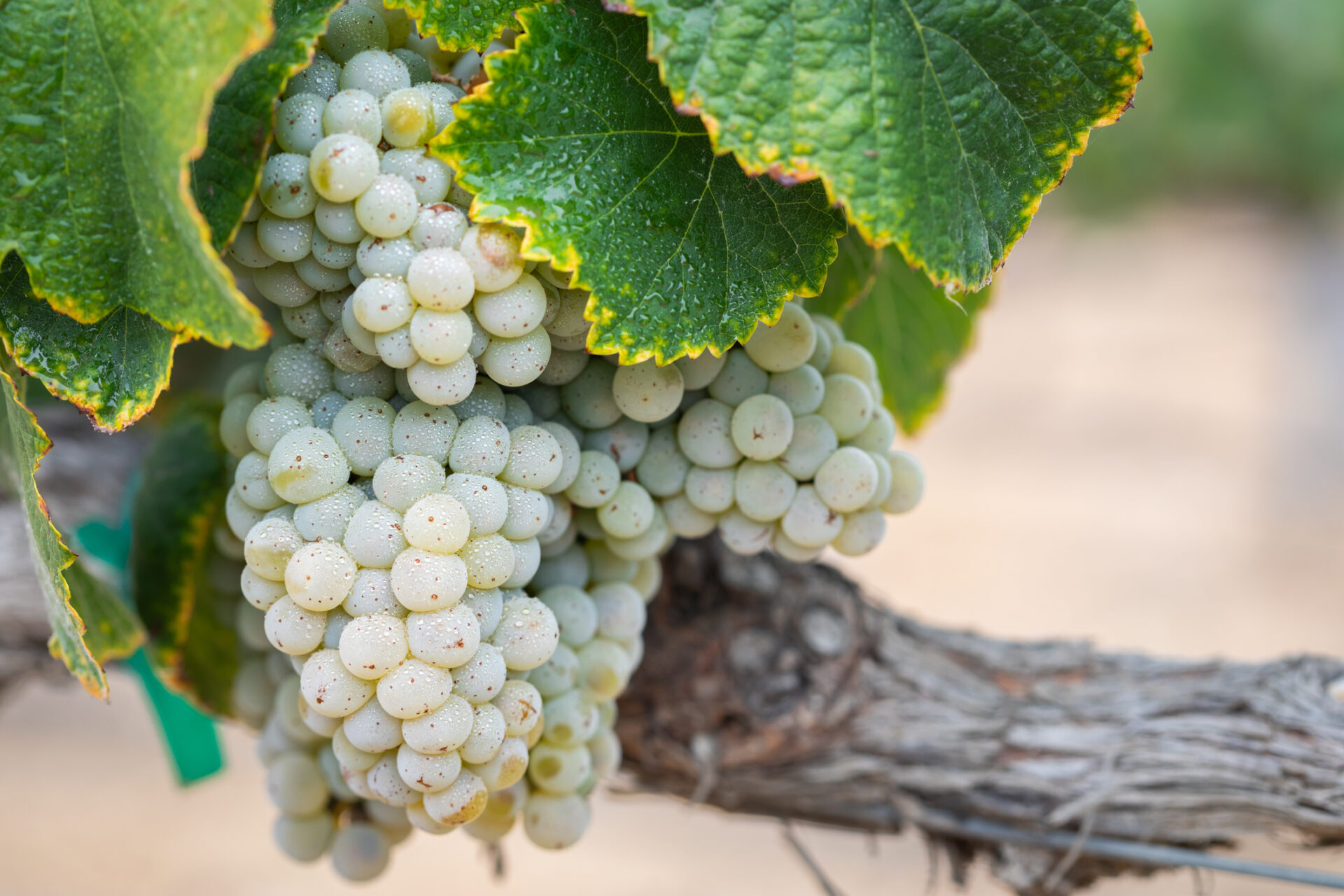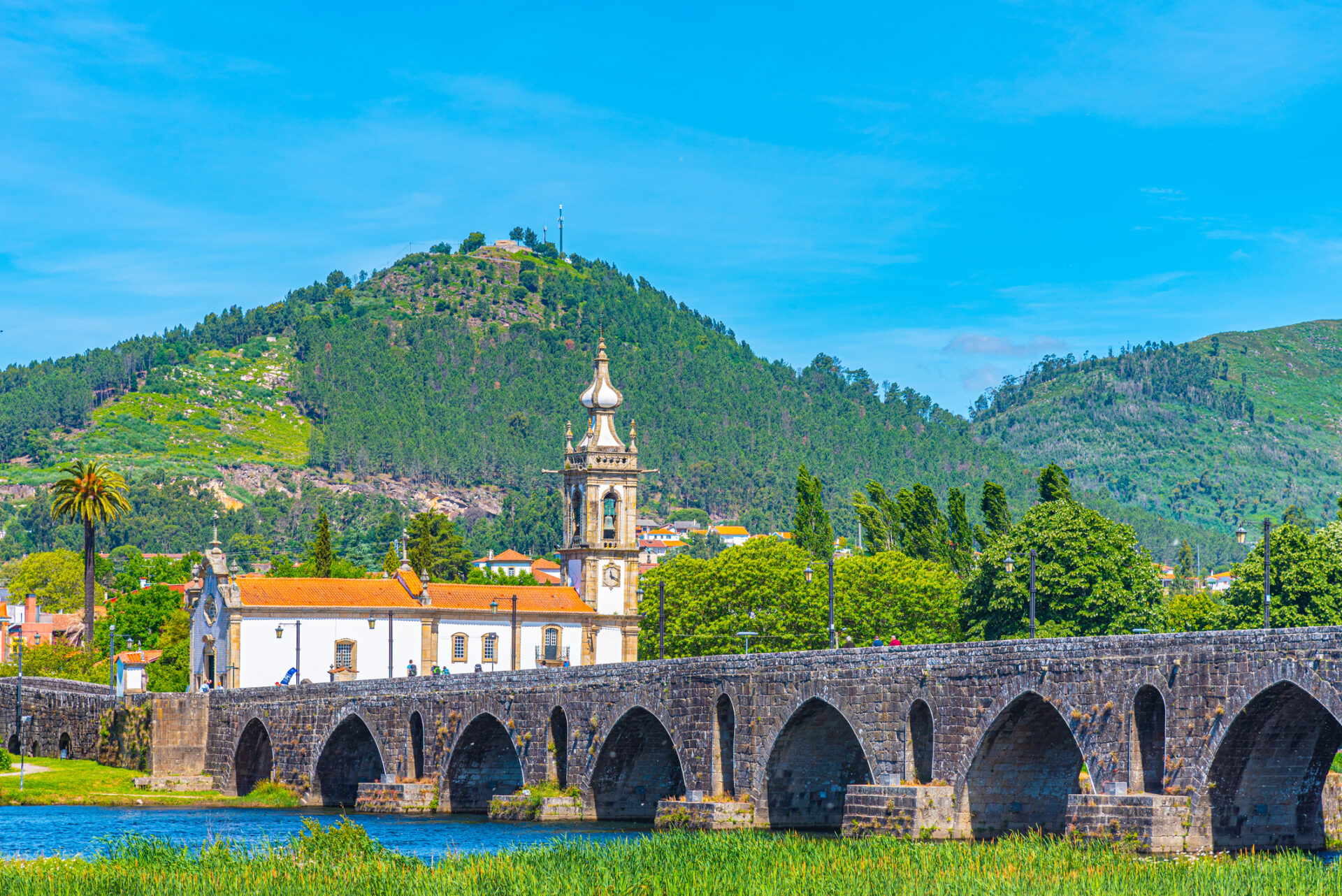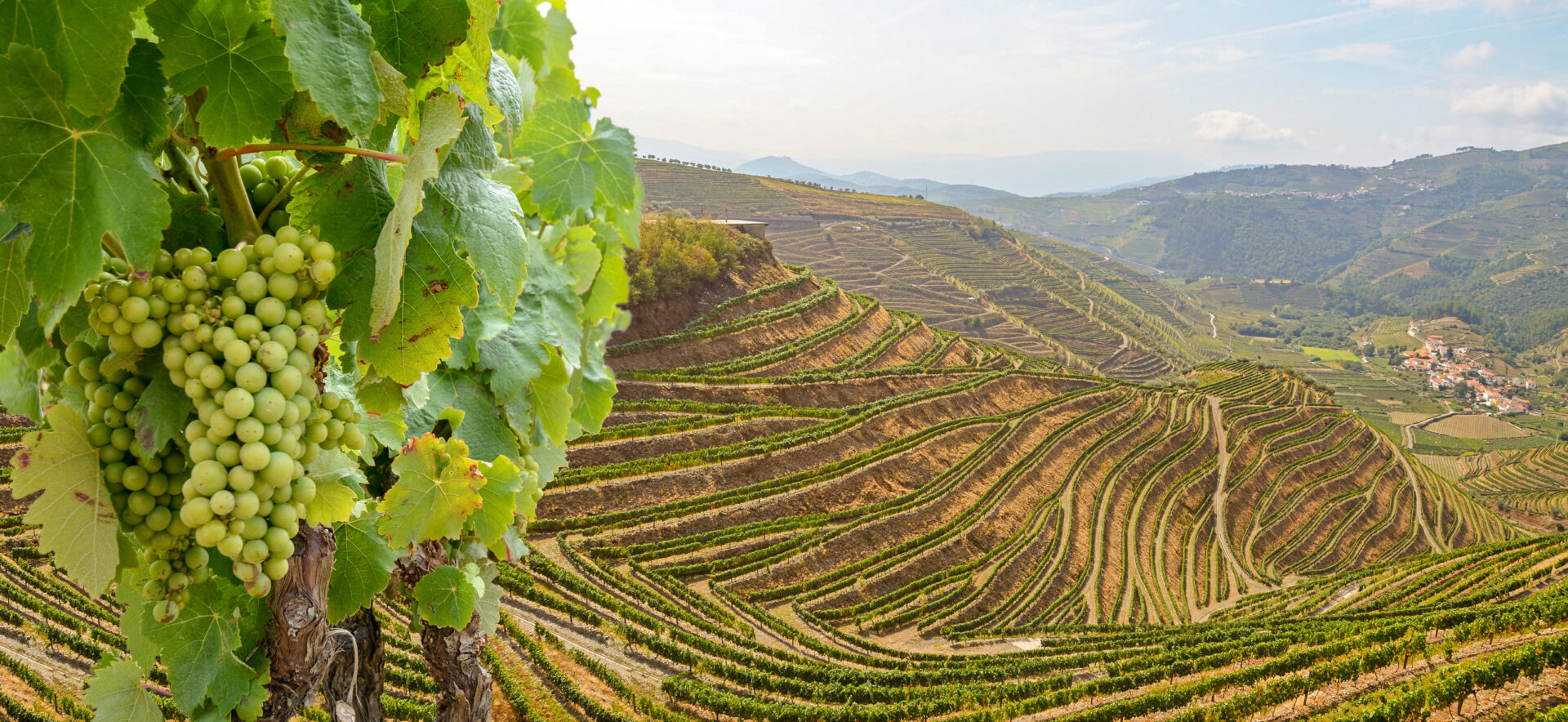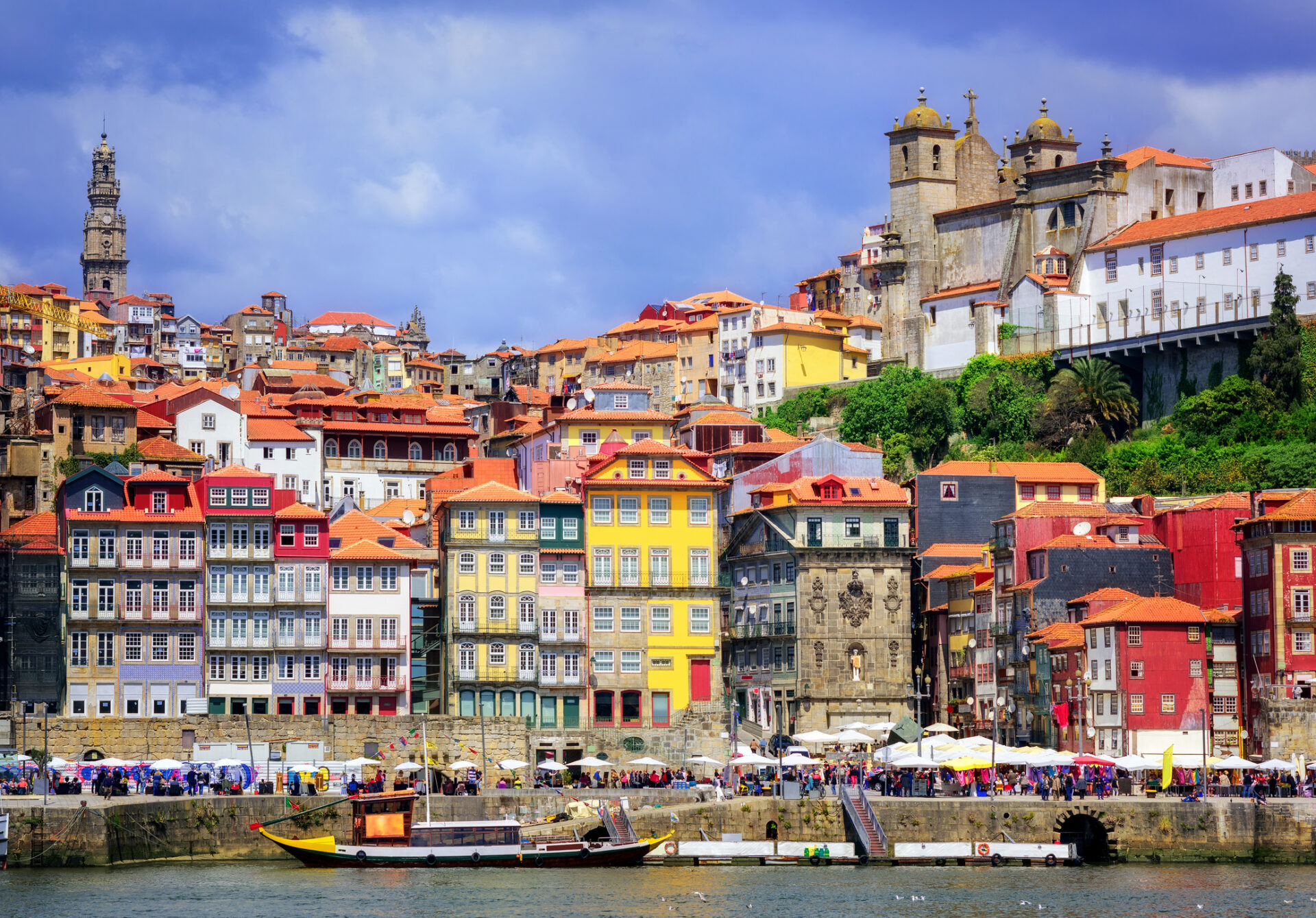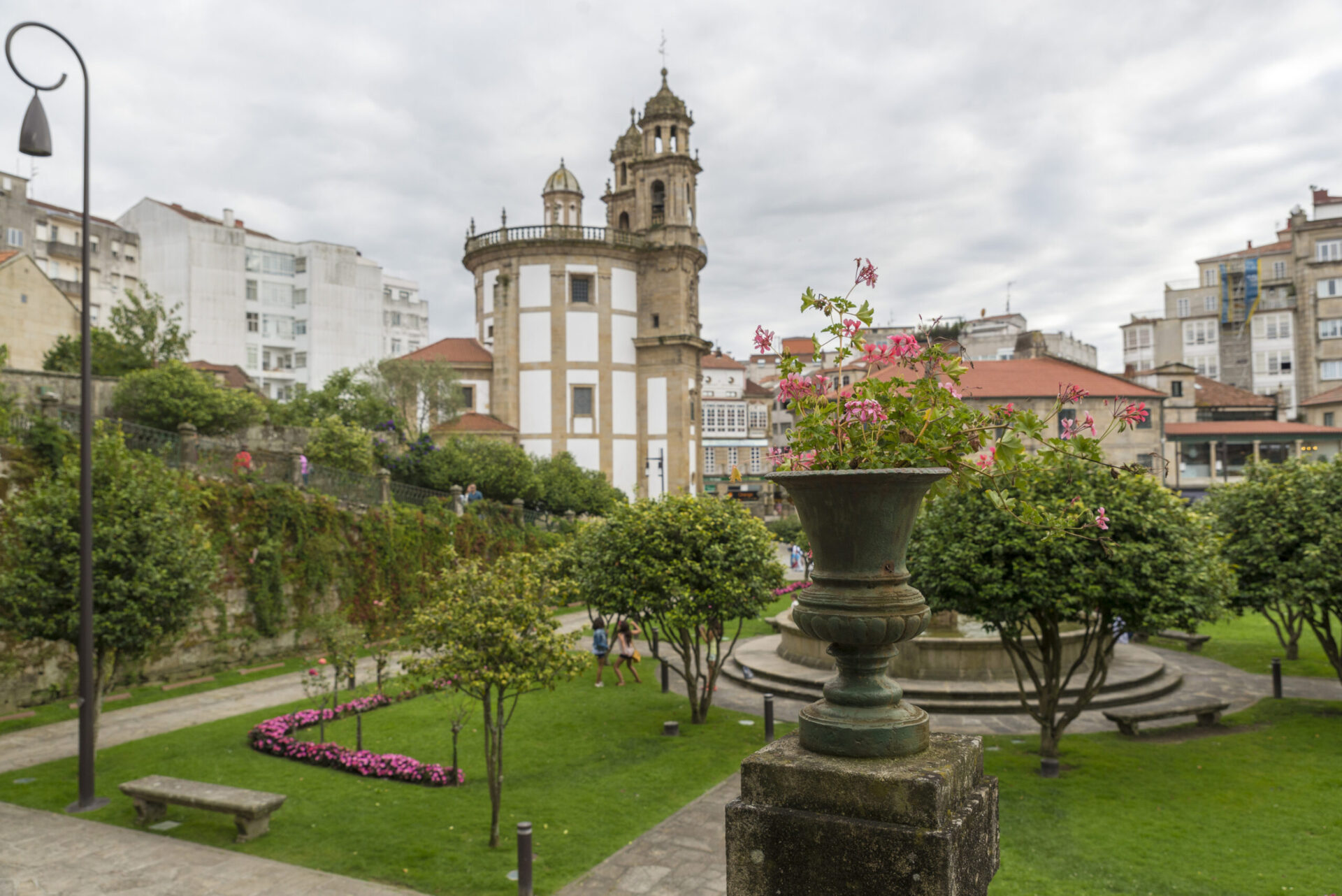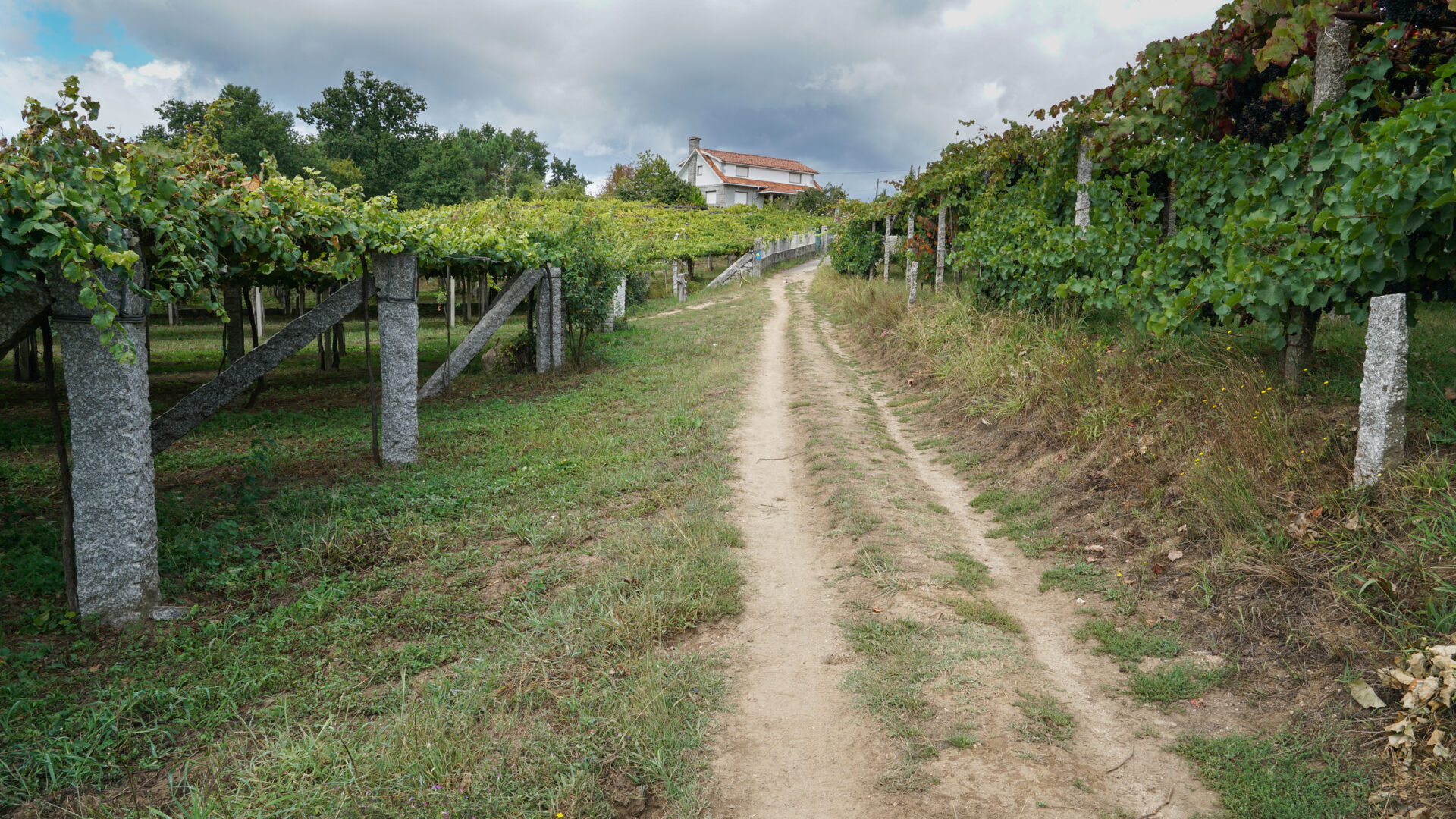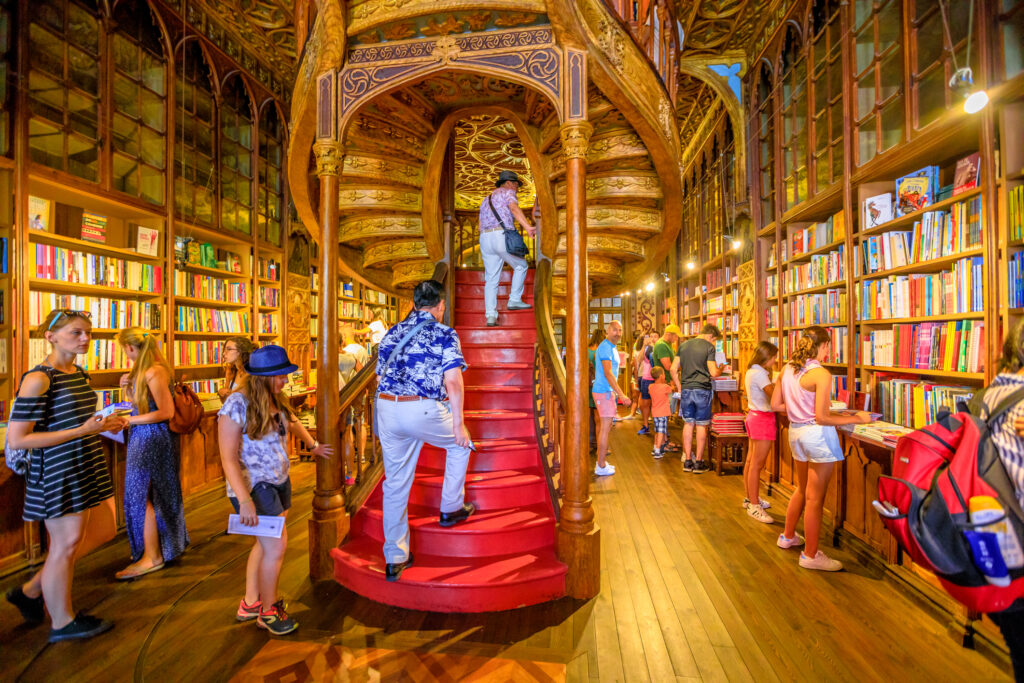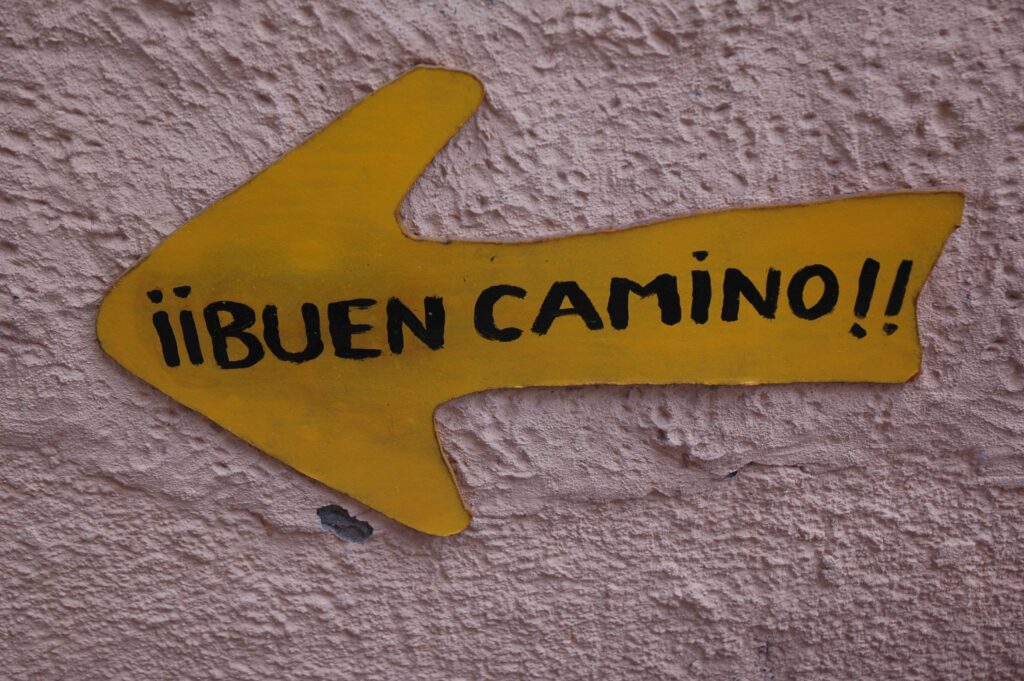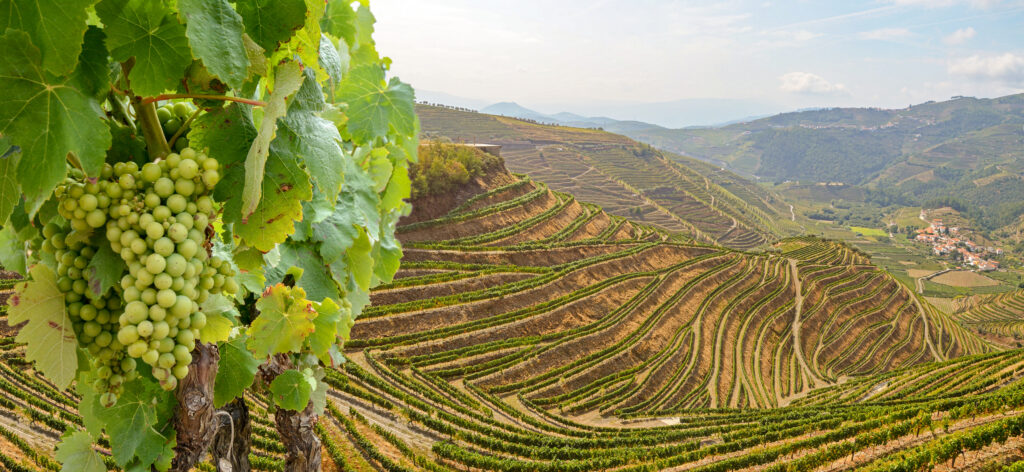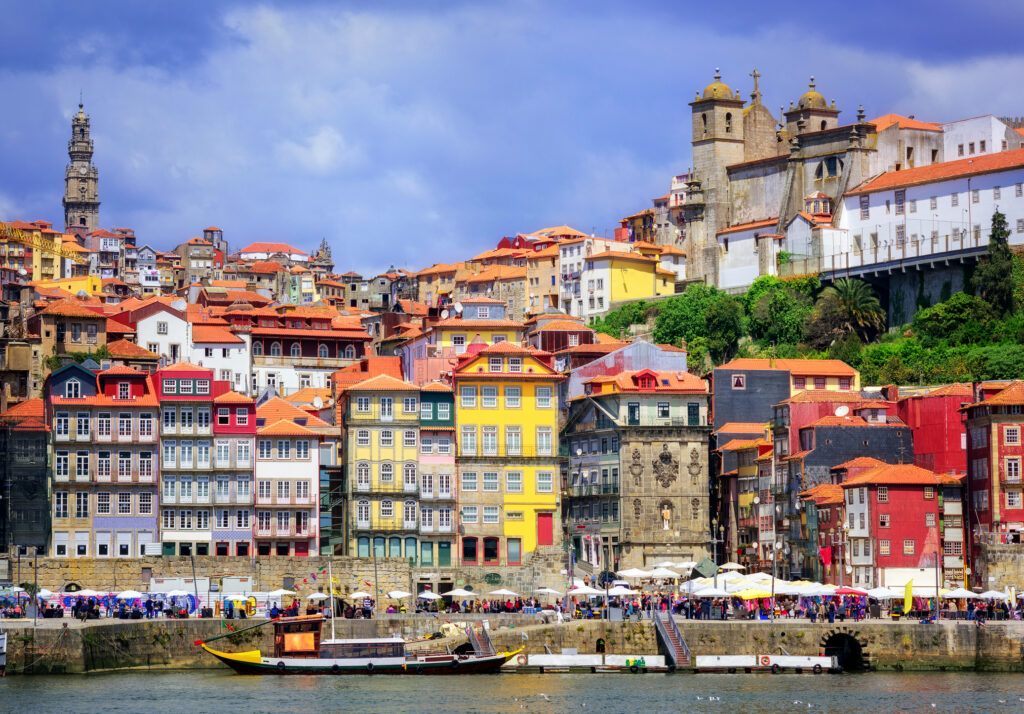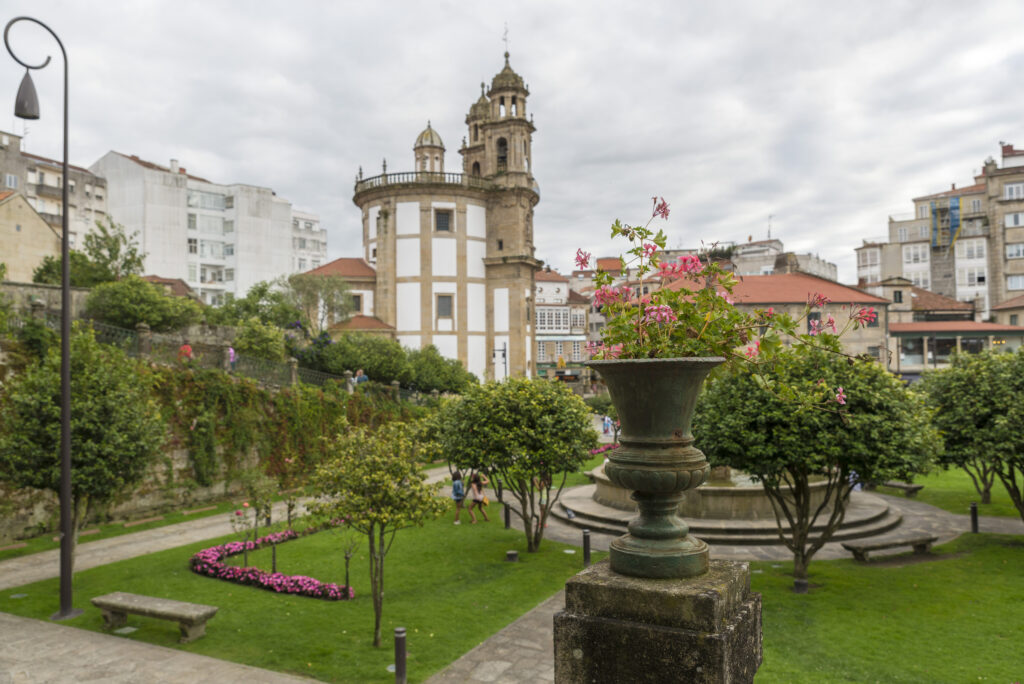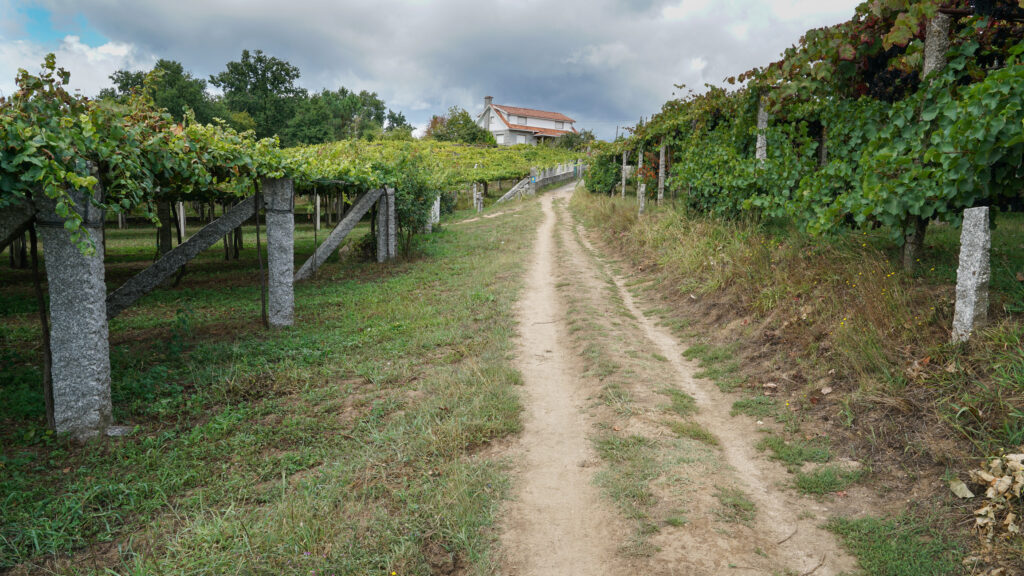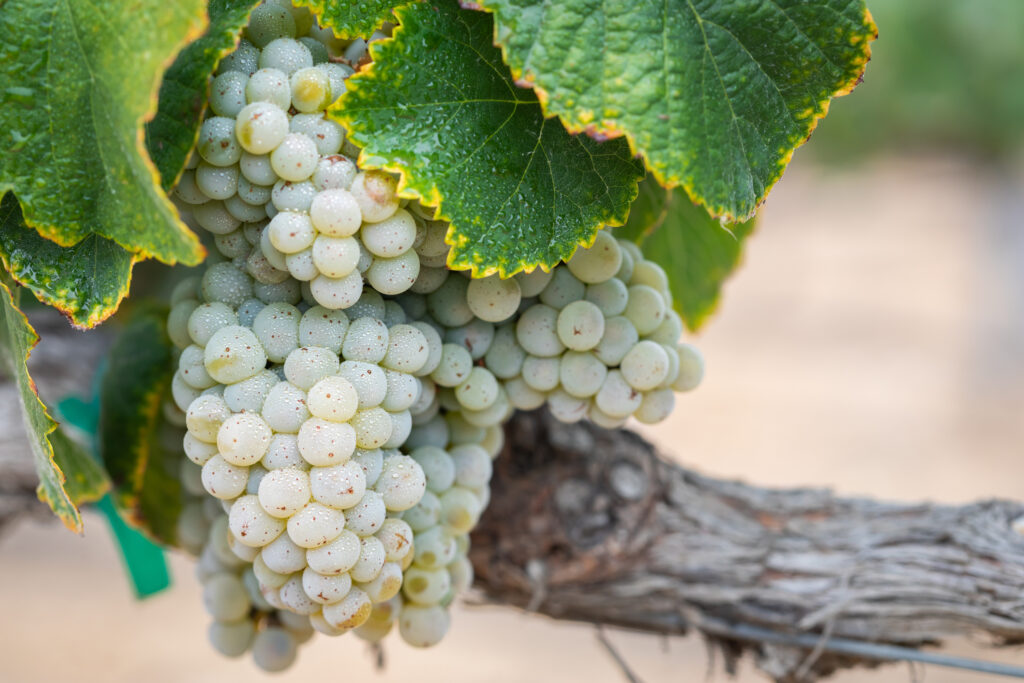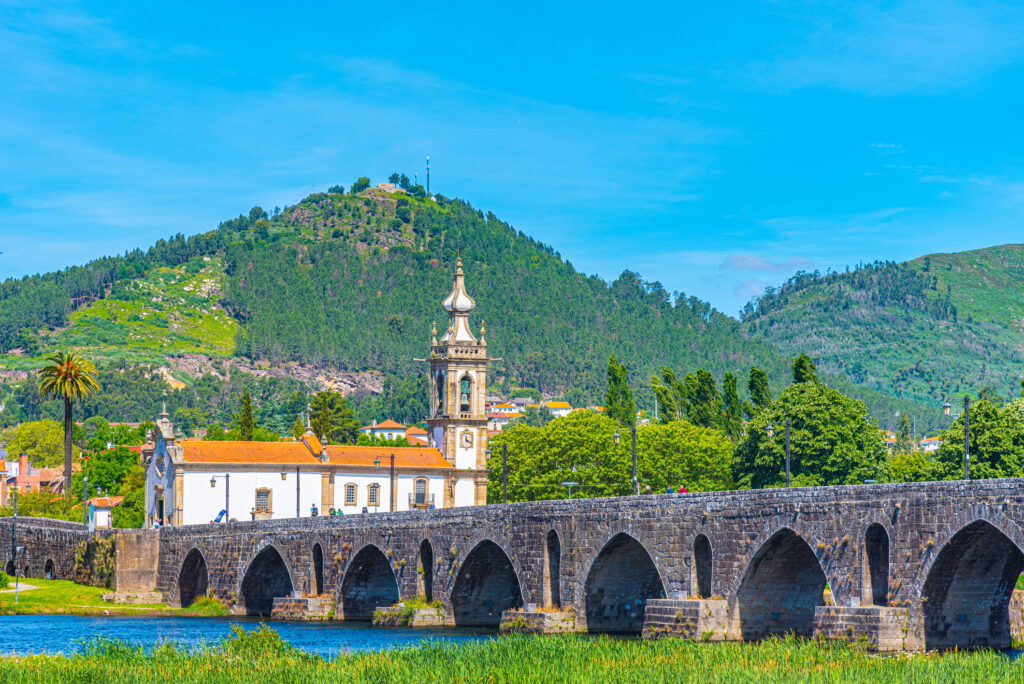 The Camino Portugues is the second most traveled of all the Caminos, second only to the Camino Frances of cinematic fame.
Our Pilgrim's Path in Portugal takes us north from Porto, Portugal, to our final destination, St. James tomb in the Cathedral in Santiago, Spain. Our walks take us to a variety of world-class vineyards, through beautiful landscapes, by the banks of the scenic River Minho, and to a variety of historical monuments, many dating back to Roman times. While the early part of our path includes time on some urban pavement, the gentle elevations, green landscapes, and relative quiet of our route makes for a unique and inspiring experience.  And, of course, it doesn't hurt that the regions we travel offer exquisite gastronomic fare.
We invite you to join us on this historical walk through some of the best of Portugal and the always beautiful province of Galicia in Spain.
The Pilgrims' Way to Santiago, or "Way of St. James", is a journey of the soul and spirit that takes the traveler in the footsteps of millions who traveled from all over Christendom to venerate the tomb of the Apostle St. James – Santiago. The site, now known as Santiago de Compostela, came to be Christianity's 3rd Holy City, along with Rome and Jerusalem, and St James became the Christians' patron saint and inspiration in their long struggle to re-conquer Spain from the Moors.
Although it was not the first route used for the pilgrimage, the accessible terrain found along the "French" route that we follow led to it becoming the most popular of the various pilgrim's ways to Santiago de Compostela over the centuries. As a result, many towns and villages sprang up along the Way to attend to the needs of the continuous volume of pilgrims, creating a superb legacy of wonderful historic and artistic monuments dedicated to the apostle.
DEPOSIT: To reserve your space, a $400 deposit per person is required.  Final payment is due 60 days prior to the trip departure date.  If applying within 60 days of the trip departure, full payment is required.
TRIP DATES
April 26 – May 7  2022
10/10 Arrive Porto.
Once you've arrived in Porto, checked into your hotel and had some time to relax, our local guide will greet you for our orientation meeting and a short walking tour of Porto.   Our walk starts with a visit to the Lello library, made famous by the scene from Harry Potter and the Philosopher's Stone in which the stairs of Hogwarts don't stop moving and take wizards everywhere.  Then it's off to the 18th century Torre dos Clerigos Tower for a perfect viewpoint over Porto. A must see is the Sao Bento railway station with its amazing interior tiles. Our hotel is near Porto's riverside promenade with views across the river Douro to the many Port Wine establishments. (If you've ever wanted to try Port Wine, this is the time and place!) We finish the evening with a sumptuous dinner! Overnight in Porto.
11/10  WALKING SAN PEDRO DE RATES TO BARCELOS   15 KM or 10 miles: 3-4 hours. We transfer from Porto to Sao Pedro de Rates.
We start our walk in the town with the most Romanesque church in Portugal, the Igreja Romanica de Rates.  This is an important stop because Saint Peter of Rates, also known as Saint Peter of Braga, the first bishop of Braga, was ordained by Santiago himself. Both men met the same tragic ending, but both were also similarly rediscovered by a light in the sky.  Like Santiago, a church was built to house the remains of Saint Peter of Rates, a major reason the pilgrimage passes this way.  Our day includes a visit to a wine cellar with, of course, a tasting! Accommodation in Barcelos.
12/10 WALKING VITORINO DOS PIARES TO PONTE DE LIMA → 12 KM or 7.5 miles: 3-4 H  Transfer from Barcelos to Vitorino dos Piares.
This is a day to remember as one of the most beautiful.  And if you love wine, you'll be doubly impressed.  Our walk takes us through an area famous for the Vinho Verde, or "green wine".  Two major rivers flow through the northern area of the Vinho Verde area, the Mino and the Lima.  On their path to the Atlantic, these two rivers create excellent conditions for production of white wine. While about 85% of grapes produced in this area are white, red wines are increasing in production and popularity.  We'll try samples of both.  In Victorino dos Piares, we visit a church where the priest himself makes the stamp for our credential, or passport, making a new one every day.  We'll also visit Ponte de Lima, a former Roman settlement and one of the oldest chartered towns in Portugal.  Our day wouldn't be complete without a sampling of the area's cuisine and amazing desserts – the Charuta and the natas!  Accommodation in Ponte de Lima.
13/10 WALKING RUBIAES to TUI → 19 KM or 12 miles:  4-5 H We Transfer from Ponte de Lima to Rubiaes.
Today we cross the border between Portugal and Spain through the town of Tui. This is one of our easiest walking days and the last section of the Camino in Portugal as we head to Santiago. On our way to Tui, we stop in Valenca do Minho to explore one of the best kept fortresses in Europe.  Dating from the 13th century, the fort has three miles of walls that embrace the historical center of Valenca.  A walk of the fort's perimeter provides superb views of the Minho River and Tui, Spain.  Valenca is also home to a beautiful cloister and, some say, the capital of Cod on the Iberian Peninsula.  Overnight in Tui.
14/10 WALKING TUI to O PORRIÑO → 16 KM or 10 miles: 3-4 H.  We Transfer from Porriño to Vigo and overnight in Vigo.
This section of the Camino provides another beautiful day on the trail.  During our walk, we take time in the town of Vigo to explore the many beautiful gardens and wonderful beaches.  And, time permitting, we'll board a ferry for a visit to the Cies Islands.  The Islands were declared a Nature Reserve in 1980 and were added to the Atlantic Islands of Galicia National Park in 2002.  The Islands also carry the status of a Protected Area for Birds and are home to one of the major colonies of the yellow-legged gull as well as more than 20,000 pairs of seagulls.  (Since Tui is only 120 km from Santiago, many pilgrims start their journey here to ensure they travel the minimum distance to receive their certificate of completion or Compostela.)
15/10 WALKING O PORRIÑO to REDONDELA→ 16 KM or 10 Miles: 3-4 H. We Transfer from Vigo to O Porriño to start our walk. At the end of our walk, we Transfer to Vigo. Accommodation in Vigo
Today's walk has a combination of a few steep sections with a small climb to Capilla de Santiaguiño near the end of our walk and a more tranquil walk along the River Louro.  Because today's walking distance is shorter, it's possible we'll have time to enjoy a bit of sailing on the bay near Viga.
16/10 WALKING REDONDELA TO PONTEVEDRA → 20 KM or 12 Miles: 4-5 H  Transfer to Redondela. Accommodation in Pontevedra
Today's walk takes us through a major winemaking area known for the production of the famous Albarino wine.  Eucalyptus forests also grace our day's path, providing shade and a calliope of color in the bark of the Eucalyptus.  Our path takes us to Puente de Pontesampaio, one of the most beautiful bridges in Galicia.  It was on this amazing 10-arch bridge that, in 1809, the last battle against Napoleon's armies in Galicia was fought, ending the French occupation of Galicia. The city of Pontevedra, one of our local guide's favorites, is entirely pedestrian and boasts a basilica and the chapel of Our Lady the Pilgrim – the patroness of all pilgrims that walk to Santiago along the Portuguese Way.  A walking tour of Pontevedra's old town will delight.
17/10 WALKING PONTEVEDRA TO CALDAS DE REIS → 21 KM or 13 Miles:  4-5 H Accommodation in Caldas de Reis
More vineyards?  Yes, more tastings and, if weather permits, we may have the opportunity to participate in a harvesting of the grapes, a rare but wonderful opportunity.  On walk takes us through several small towns, Alba, A Portela, and Briallos, over a Roman Bridge, and into Caldas de Reis, known for its thermal springs and soothing massages for weary muscles.  And, we'll meet some very special locals, the brother and family of Pati, our amazing local guide.  Word has it that Pati's mom is offering homemade empanadas.  How could we resist?!  And, of course, Leo, Pati's favorite canine, will win your hearts!
18/10 WALKING CALDAS DE REIS TO PADRÓN → 17 KM or 12 miles: 4-5 H We'll transfer to Caldas de Reis to being our walk. Accommodation in Lestrove (Padrón)
Much of today's trail is rural and quite enjoyable.  As we close in on Santiago, the bridge over the Ulla River will take us from the province of Pontevedra to the province of A Coruna. Peppers anyone?  Padron is widely known for its famous peppers and produces about 15 tons annually.  Also in Padron is the parish church where we can see the Pedron – a Roman votive altarpiece of granite that, tradition says, is where the boat with the mortal remains of the Apostle Saint James was moored – a must see.  We'll also visit Pazo do Faramello, a manor house, with water mills, waterfalls, beautiful gardens, a baroque chapel, and a glass of wine.
19/10 WALKING PADRÓN to SANTIAGO DE COMPOSTELA → 26 KM or 15 Miles:  6-7 H Accommodation in Santiago
Today, the scenery is outstanding but also one of our longest walking days – our goal is to get safely, with some energy left, to Santiago. Excitement builds as we get closer to the Holy City. Following now-familiar yellow arrows and Camino markers to the Cathedral, we arrive in the Plaza del Obradoiro, the heart and soul of Santiago and a place of constant activity. Exuberant groups of pilgrims stand in awe in front of the grandiose façade of the Baroque Cathedral. Wrought-iron balconies, granite homes and public buildings lend a medieval air.
The medieval music of La Tuna (university troubadours dressed in 16th Century garb) pervades the Plaza. Some pilgrims have traveled for months, on foot, by bike or horseback. Though a variety of reasons (cultural, adventurous, or spiritual) compel us to experience this ancient pilgrimage – we arrive in Santiago united by our quest.  Dinner is celebrated this evening at an extraordinary dining establishment.  Tonight we enjoy a welcome rest at the famed Parador on the town square in close proximity to the cathedral itself.  Accommodation in Santiago.
20/10 SANTIAGO
After breakfast we meet in the lobby for a walking tour of Santiago.  In the Cathedral we take part in age-old rituals, such as "hugging" the bejeweled silver statue of St. James at the altar and placing our hands on the Tree of Jesse, a symbolic way to connect to the millions of pilgrims and travelers gone before us. The afternoon is free to explore this magnificent city and to find those souvenirs of your experience on the Camino.  We celebrate our time together with a magnificent farewell dinner in the Parador itself, a unique and memorable experience.  Accommodation in Santiago.
21/10 DEPARTURE Our tour ends after breakfast, but you can be sure that your experience on the Portuguese Camino and our stay in Santiago will be on your mind for future trips!
Depart or stay for a few extra days to enjoy the richness of Santiago or head to other destinations unknown.
WHAT'S INCLUDED
11 Nights lodging (double occupancy) in beautiful and historical Paradores, luxury hotels and charming inns
Meals as listed
The best regional wines with your meals every night
All breakfasts – a mix of buffet and continental
7 lunches
10 dinners including our final banquet at the Parador in Santiago
An authentic Spanish Comida with wine
Support van which accompanies the group
Baggage transportation to and from your room each night
Expertise and services of a bilingual trip leader and resident of Spain
Walking The World guide
Detailed route instructions and maps with orientation meetings
A special Pilgrim's Guide Book listing the historical points of interest
All special events, private tours and entrances into historical sites
All gratuities for baggage, porters and hotel service. (Does not include gratuities for trip leaders)
Transportation from initial rendezvous in Porto, Spain, to final drop-off in Santiago
Walking The World t-shirt
Good fun, humor and companionship
Dates:                              October 9-20, 2022

Land Cost:                      $4195.00  (U.S. Funds) 
Single Supplement:      $600.00 (U.S. Funds)
Lodging:                         Bed & Breakfasts

Trip Begins:                   Porto, Portugal                           
Trip Ends:                      Santiago, Spain
Walking The World
PO Box 40442   Grand Junction, Colorado  81504
Email:  info@walkingtheworld.com
Website: www.walkingtheworld.com
Ph:  970-498-0500
Walking the Camino de Santiago is a journey of the soul and spirit.  Drawing people today as it has for more than a thousand years, we're accompanied on our journey to the tomb of St. James, Son of Thunder and disciple of Jesus, by the memories of St. Francis of Assisi, John of Gaunt, Chaucer's Wife of Bath, and even Pope John Paul when he was a young man.  Experience the pleasing rhythm of your staff hitting the ground, the road unrolling before you in the rain-washed landscape of Galicia, continuing footstep after footstep through ancient villages as you marvel at the timelessness of your journey.  There will always be some unexpected sight on the horizon, some encounter that refreshes the human spirit and causes us to pause and contemplate the simple beauty of our quest.
Pre-trip      We recommend that you plan to arrive at least one day in advance.  Not only will you be ready and well rested, this also allows you time to explore Madrid on your own.  Time permitting, because art is such an integral part of Madrid's history, we recommend that you spend some time at the Prado to familiarize yourself with the important works of Velazquez, Goya and El Greco. (You can arrange for an English-speaking guide to join you by contacting the Prado or asking the concierge at your hotel. We also recommend the Centro Reina Sofia Museum where Picasso's Guernica is on display.  You might also spend some time walking the Old Quarter and visiting the Plaza Mayor for a drink or visiting the Puerta del Sol area and Gran Via for great shopping.  If you prefer shopping on-line, visit www.atspain.com for a fascinating assortment of Spanish artwork.  Food and wine are essential in Spain and Madrid boasts some fabulous restaurants.  For the best paella, La Barraca, on Calle Reina, can't be topped.  To experience the quintessential tapas, go to La Bocaita on Calle Libertad.
Day 1 – LEÓN 
Our meeting place for the start of our adventure on the Camino is in Leon, Spain.  If you fly into Madrid, you can fly or take a train to Leon, Spain, for the start of our adventure on the Camino. Once in Leon, you'll want to travel to our hotel.  Our local guide will meet us there for a walking tour of Leon.
We spend the afternoon visiting the Pantheon of Kings and the Cathedral in the old Roman city of León. Next to the Church of San Isidoro, the Romanesque Pantheon of Kings is highly prized for its carved capitals and rare 12th Century frescos illustrating biblical and mythical subjects as well as scenes from medieval life.  We continue to the Gothic Cathedral, in the heart of the Old Quarter, where we view in awe, the magnificent 13th Century stained-glass windows. Considered an architectural miracle, the quantity of glass in this structure astounds even the modern-day engineer. Light pours in through more than 1,800 square meters of stained glass – a magical sight that has mesmerized millions of travelers before us. We lunch in the heart of the Barrio Humedo (literally the "Wet Quarter" due to the amount of bars in the area), where delicious cochinillo (suckling pig) and cordero (lamb) are prepared according to age-old recipes in wood-burning ovens. For our welcome dinner, we'll go tapas-hopping in the Old Quarter or perhaps stroll by the River Bernesga where the locals meet and play petanca at sunset. (D) = Dinner included.  Overnight:  Leon – Hotel NH Plaza Mayor
Day 2 – León to Iron Cross to Bierzo Valley
Walking: 15 KMs or 10 miles
After breakfast, we'll board our van and head to one of the standout historical landmarks on the Camino, the Roman Bridge in Puente Orbigo.  This medieval bridge, one of the best preserved in Spain, dates from the 13th century.  Spanning the Rio Orbigo, its fame comes from a supposed jousting tournament that took place in the Holy Year 1434.   Then it's off to Foncebadón where we'll lace up our boots and hit the trail for our walk to Cruz de Ferro, the Iron Cross.  Standing at an elevation of 4,934 feet, this simple iron cross reminds us to pause and reflect on our pilgrimage as well as to appreciate the simple joy of walking in the great outdoors.  Then it's off to Cacabelos to begin our 7.76 miles walk to Villafranca.  If time permits, we'll enjoy a walking tour of Villafranca del Bierzo before dinner.
Overnight:  Villafranca – Parador Villafranca
Day 3 – O'Cebreiro to Triacastela
Walking: 21 KMs or 13 miles
We start our day in O'Cebreiro, an ancient village on the Camino that is steeped in legend, mystery, and beauty.  Perched on the crest of the Cantabrian mountain range, and on the frontier between the provinces of Leon and Galicia, O'Cebreiro is inextricably linked to the Camino de Santiago.  Historical accounts show that pilgrims found shelter in the village as early as the 9th century.  If time permits, we'll visit the Romanesque church of Santa Maria la Real. This is the oldest surviving church associated with the pilgrim's way and the resting place of Dan Elias Valina Sampedro.  It was this visionary priest who had the idea to mark the Camino with the familiar yellow arrow.
Our walk today begins with a steady climb to the Alto do Poio, at 4,336 feet, the highest point of the Camino de Santiago in Galicia. We finish in the town of Triacastela.  An interesting point to note, as we head west toward Santiago, is that the mountains of Galicia are the first obstacle the winds off the Atlantic Ocean encounter.  Predictably, we'll notice a change in weather, including more frequent rains.  On the positive side, it's these refreshing showers that support the mountain streams and countryside reminiscent of Ireland. As we progress into Galicia, we'll enjoy local hot soups, fish dishes, including steamed octopus, local red and white wines, local cheeses and quince jelly, queso y membrillo, and almond tart.  Of course, from now on, each evening we'll be able to savor the different varieties of orujo, distilled from grape skins.  Overnight: Triacastela – Casa rural Pacios
Day 4 – Triacastela to Sarria
Walking: 17 KMs or 11 miles
Our walk today begins in the village of Triacastela. It was here – according to legend – that pilgrims would take a heavy stone from the local quarry and carry it the entire day to the kilns at Castañeda, five leagues away. The stones were then converted into lime and used to build the Cathedral in Santiago de Compostela. We walk through an ancient landscape dotted with bridges, crumbling castles and punctuated with the gentle tinkling of cowbells. We visit the 9th Century Benedictine monastery in Samos, where Father Fructuoso shows us the tranquil cloisters and neoclassical church – later ushering us into the cathedral to hear the monks chant their evening Vespers.  Overnight: Sarria – Hotel Alfonso IX
Day 5 – Sarria to Portomarin
Walking: 23 KMs or 14 miles
Today we walk by the 100km marker. Pilgrims must walk each mile from this point forward to receive their certificate of completion when reaching Santiago.
Walking this section of the Camino is considered by many to be the highlight of the entire trip.  We traverse a maze of tracks and footpaths through enchanted forests, granite hillsides covered in gorse, heather, and broom, and a patchwork of primitive farms worked as they were a thousand years ago. Our picnic lunch outside a pilgrim's refuge includes local cheese, ripened red tomatoes, crusty loaves of bread and cured jamon. After crossing the River Miño, we enter Portomarín. In 1962, the old village was flooded to create a reservoir. The town's treasure, the 13th Century Church of San Juan, (once belonging to the order of St. John of Jerusalem), was moved stone by stone by the townspeople to higher ground where the current town of Portomarín is located.  Overnight: Portomarin – Pazo de Berbetoros
Day 6 – Portomarin to Palas de Rei
Walking: 25 KMs or 15 miles
Today we trace quiet paved roads past small villages, cruceiros (carved granite crosses that served to mark the Camino in medieval times), horreos (stone granaries) and tiny Romanesque churches. The abundance of Romanesque architecture in this area makes it one of the most important regions for art historians in all of Europe.  Our destination is Palas de Rei (The Palace of the King), a town once inhabited by Visigoths, Celts and Romans. Its name is derived from the Visigoth King, Witiza, who held court here. We take lunch today in a travelers' restaurant and enjoy the camaraderie of other pilgrims on their way to Santiago de Compostela.  Many are from Europe, but others come from more far-flung corners of the globe.  Overnight: Palas De Rei – Casa Rural A Parada Das Bestas
Day 7 – Palas de Rei to Melide
Walking: 15 KMs or 9 miles
Our path today takes us through shady forests of pine, oak and eucalyptus and through a variety of tiny villages. On the Camino, local people feel honored to see peregrinos pass through their village. The only traffic we are likely to encounter is that of gentle, lazy cows returning to village barns in the late afternoon. In Furelos, we cross the magnificent Ponte Velha, a medieval bridge with four arches spanning the river. Soon after we arrive in Melide, a town dating back to pre-Roman times.  It's here we'll find, in a former monastery, interesting 15th century frescoes depicting St. James the Moor-slayer. Overnight: Arzua – Paso De Brandeso
Day 8 – Melide to Arzúa
Walking: 14 KMs or 9 milesShort bus transfer to our starting point in Melide.  Our destination today is Arzua.  On our way, we'll pass Boente parish, where James is depicted exactly as he is at the Cathedral of Santiago, not as a pilgrim or warrior, but as a Saint.  Rising refreshed after a restful sleep, we set off through deep forests dotted with small hamlets.  Our path today offers us a sense of idyllic charm as well as a quiet peacefulness as we draw closer to our final destination.
Overnight: Arzua – Paso De Brandeso
Day 9 – Arzúa to O Pedrouzo
Walking: 19.2 KMs or 11.93 miles
Departing from Arzua we head to O Pedrouzo/Arca, passing through gently rolling countryside unchanged for the last 1000 years.  And finally, in Santa Irene, we visit an 18th Century church with a chapel dedicated to the Portuguese martyr, a rather uncommon devotion on the Camino. Overnight: Lavacolla – Pazo San Xordo
Day 10 – O Pedrouzo to San Marcos
Walking: 15 KMs or 9.32miles.
Beginning our walk in the tiny hamlet of Arca, we savior each footstep as the Pilgrim's Way weaves through sweet-smelling eucalyptus groves and neatly sown fields and vegetable patches.  During our walk, we begin to contemplate the tradition of the nearby Labacolla River.  Here, medieval pilgrims would strip off their clothes, bathe, and prepare for a clean entry into Santiago de Compostela.  This dip is optional for 21st Century pilgrims!                       Overnight: Lavacolla – Pazo San Xordo
Day 11 – San Marcos to Santiago                                                                           Walking: 6 KMs or 3.5 miles                                                                                         We're almost there!  Following the now familiar yellow arrows and camino markers to the cathedral, we arrive in the Plaza del Obradoiro, the heart and soul of Santiago and a place of constant activity.  Exuberant groups of pilgrims stand in awe in front of the grandiose façade of the baroque cathedral.  Wrought-iron balconies, granite homes, and public buildings lend a medieval air.  Our hotel, the luxurious Parador de los Reyes Catolicos, occupies one side of the square.
The medieval music of La Tuna (university troubadours dressed in 16th century garb) pervades the plaza.  Some pilgrims have traveled for months, on foot, by bike, or horseback.  Though a variety of reasons (cultural, adventurous, or spiritual) compel us to experience this ancient pilgrimage – we arrive in Santiago united by our quest.  Our day includes a walking tour of Santiago.  In the cathedral we take part in age-old rituals, such as "hugging" the bejeweled silver statue of St. James at the altar and admiring the incomparable beauty of the tree of Jesse, symbolic ways to connect to the millions of pilgrims and travelers gone before us.
Parador los Reyes Catolicos – Built by King Ferdinand and Queen Isabel, the catholic monarchs, our accommodations in the oldest hotel in Europe are luxurious.  Overnight: Santiago – Parador Santiago
Day 12 – To Finisterre  Overnight:  Santiago – Parador Santiago
Day 13 – Depart or stay for a few extra days to enjoy the richness of Santiago or head to other destinations unknown.
WHAT'S INCLUDED
12 Nights lodging (double occupancy) in beautiful and historical Paradores, luxury hotels and charming inns
Meals as listed on itinerary
The best regional wines with your meals every night
All breakfasts – a mix of buffet and continental
7 lunches
12 dinners including our final banquet at the Parador in Santiago
An authentic Spanish Comida with wine
Support van which accompanies the group
Baggage transportation to and from your room each night
Expertise and services of a bilingual trip leader, resident of Spain who is passionate about his/her country
Detailed route instructions and maps with orientation meetings
A special Pilgrim's Guide Book listing all the historical points of interest along the Camino
All special events, private tours and entrances into historical sites
All gratuities for baggage, porters and hotel service. (Does not include gratuities for trip leaders)
Transportation from initial rendezvous in Leon, Spain, to final drop-ff in Santiago
Walking The World t-shirt
Good fun, humor, and companionship
| | |
| --- | --- |
| Dates:     |  April 28 – May 10, 2021 |
| Price:  | $4199 double occupancy |
| Single Supplement:  | $600 |
| Lodging:  | Historical Paradors, Luxury Hotels, Inns |
Walking The World
PO Box 40442   Grand Junction, Colorado  81504
Email:  info@walkingtheworld.com
Website: www.walkingtheworld.com
Ph:  970-498-0500