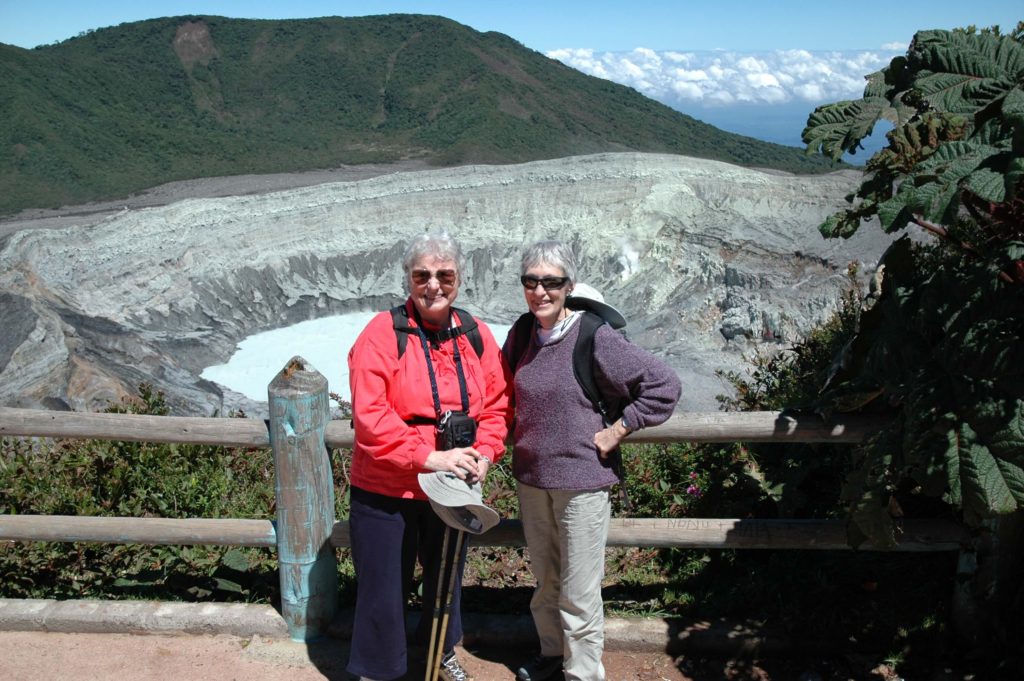 Walking to Poas
Imagine yourself in Costa Rica, waking up in your tropical hotel in San Jose, the nation's capital.  The sun is shining, the day is warm, and you've just savored a delicious breakfast of gallo pinto (rice and beans), scrambled eggs, and a platter of fresh, ripe, sweet fruit – watermelon, pineapple, bananas, and papaya – all grown locally.
Since your flight arrived late yesterday, you're curious about what this tropical paradise looks like in the daylight. Looking out the window of your 5th floor bungalow, you can see that the entire central valley where San Jose is located is surrounded by volcanoes.
Fortunately, your schedule for the day includes a visit to Poas National Park and a walk to the rim of Poas Volcano, one of the five most active volcanoes in Costa Rica.  Poas is termed a stratovolcano, or composite volcano, formed by alternate layers of ash and lava.
About an hour's drive from San Jose, Poas Volcano is the largest active crater in the world and is over a thousand feet deep and more than a mile across.  At the crater's bottom is a green hued rain fed lake punctuated by steaming fumaroles.
Hiking to the rim of an active volcano has always been one of my favorite adventures and Poas has to be one of the most beautiful. Hawaii Volcanoes National Park is certainly at the top of the list as is Mt. Etna on the island of Sicily. But Poas is in Costa Rica, a place of great beauty, friendly people, great food, wonderful beaches, and a diversity in animal and plant life few other places in the world can offer.  I hope you'll be able to experience Costa Rica one day.
The walk from the visitor's center to the main lookout at Poas is less than half a mile.  The walk follows a gentle incline to the crater, but the effort is worth every minute.  As you can see from the accompanying photos, it's a spectacular sight.  However, since the clouds roll in before noon on most days, you'll have to get an early start for the best views.
Although Poas is an "active" volcano, there hasn't been a major eruption since 1954.  While there were minor eruptions of gas, ash, and rocks in 2017 and 2019, because the volcano's seismic activity is closely monitored, there were no visitors in the area.
Lake Botos
For those with extra energy, I would recommend the additional half mile walk to Lake Botos, one of the other two extinct craters in Poas Volcano National Park.
Depending on the source, there are currently five active volcanoes in Costa Rica: Poas, Arenal, Turrialba, Irazu, and Rincon de la Vieja.  I recommend visiting them all if time permits!
If you haven't been to Costa Rica and would love to visit Poas Volcano, I invite you to join us on one of our 2020 Costa Rican adventures.
Pura Vida!
Ward Luthi
Director – Walking The World
970-498-0500