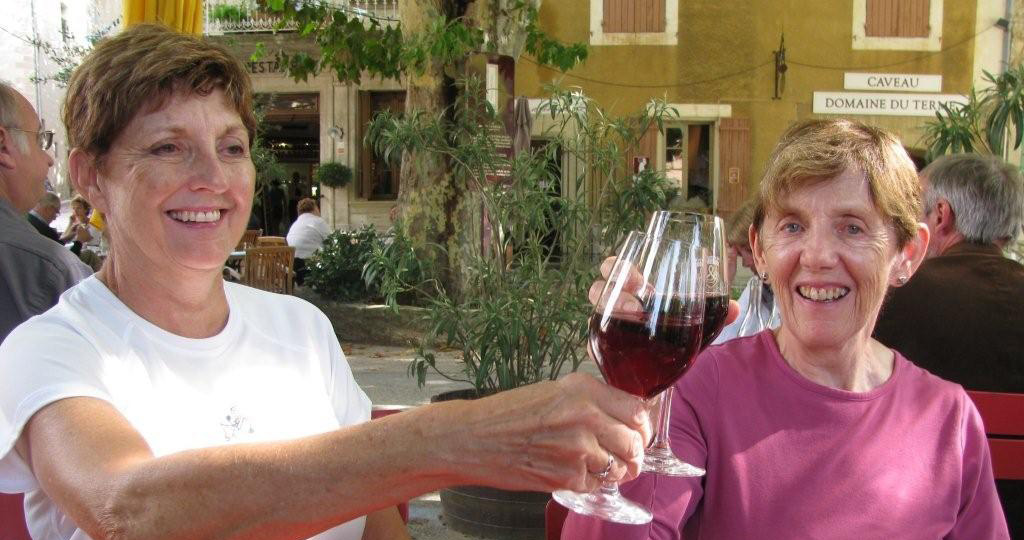 How to get the most out of your Walking Tour
It's simple.  Be in good shape when you start your tour.
One of the most frequently asked questions I get when people are considering a walking tour is "Can I physically do the trip?"
In most cases the answer is yes.  Walking is something almost anyone can do.  But walking on uneven trails, often with at least some elevation gain on a daily basis, requires that one be in the best shape possible to get the most enjoyment out of the experience.  Even areas that may seem "flat" often have small rises in elevation that your muscles will soon recognize and report back to you if the hike is long enough.
When training for a walking tour you'll do best if you concentrate on two areas:  leg strength – primarily in the upper legs for the lifting required when going uphill, and endurance – being able to walk comfortably for 5-9 miles a day carrying a light daypack.  (Walking uses three major muscles: the gluteus (buttocks), quads (top front of leg), and hamstrings (top back of legs).  Note that walking uphill uses one set of muscles while walking downhill uses another.
Your training doesn't have to be intense, to the point you hesitate to even do the workout, but you should be consistent in your efforts.  Overall you'll do better, get more bang for your buck, if you simply workout on a regular basis.  Doing light workouts 3-5 times a week will produce better results than going hard once a week and then taking the rest of the week off.  Plus, the more often you work out, at a reasonable intensity, the more likely your workouts will become a positive habit.  A habit guaranteed to yield positive results in many areas of your life.
Let me help illustrate why being in shape physically will help you enjoy your walking tour to the utmost.  As an example, a walking tour in Tuscany with Walking The World is more than just a "tour", it's a full-body and full-senses experience.  We use walking as a way to experience up-close and personal the lands we travel through and the people we meet.
While our daily walking is usually fairly moderate, any one day may find us delving into a variety of experiences unique to how the local people live.
Walking along ancient Roman pathways may evoke images of Roman legions traversing the very same paths as we move from one hilltop town to the next.  Savory scents of vines laden with plump grapes weighted with juice and trees bearing the ripening fruit of olives will tempt your olfactory senses.  We may meet a local farmer who invites us in to sample his latest wines and then shares his "secret" recipe for his uniquely blended Vinsanto, a dessert wine and a specialty each farm keeps close to the vest.  And after a glass or two of wine he may offer to show us how he presses the olives from his land or how he bakes fresh bread in his outdoor oven.
While none of these experiences are physically taxing, except maybe lifting your arm repeatedly to sample more of that heavenly Brunello di Montalcino or Chianti Classico or a Vino Nobile di Montepulcianao, you'll want to always have energy in reserve in case some unexpected opportunity presents itself.
And after all, how often do you get the chance to sit on the veranda of a stone farmhouse looking out over the Tuscan countryside while savoring a vintage red wine and drizzling silky olive oil and heaping fresh cut tomatoes and olive slices on a slice of warm bread straight from the oven……Oh!  Please forgive me!   I get carried away sometimes thinking of the experiences we've had just because we were walking and happened to be sharing the trail with a local who, with great charm, invited us to share a bit of his life.
My point is that you want to have enough energy after your walks to thoroughly enjoy the additional experiences you'll have from time to time when traveling through this world on your own two feet.
As a recap, to best prepare for a walking tour – take a walk!  And what better time than right now?  Who knows who you might meet!