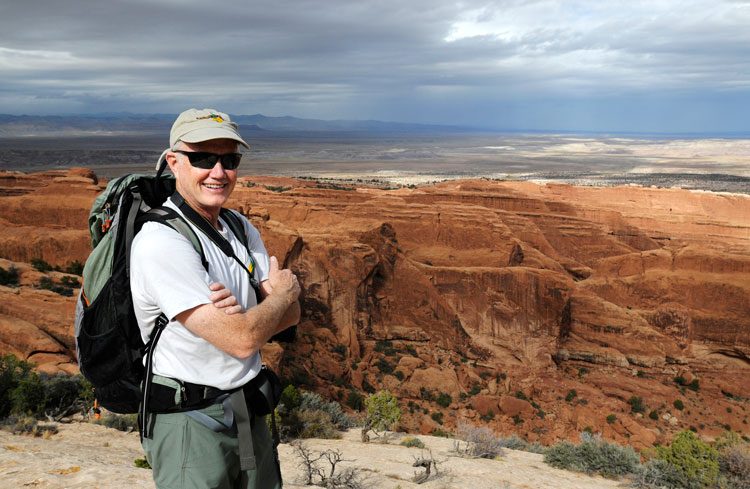 Helping Support Jeff Lowe
If you're over 50, I'm guessing you've heard the name Jeff Lowe, well regarded as one of the world's most accomplished technical climbers.
Several weeks ago while attending the Outdoor Retailer Show in Salt Lake, I had the privilege to meet Jeff and to preview his upcoming documentary – Metanoia.
Jeff has spent his life pursuing some of the most daring and awe-inspiring climbs around the world. Today he faces a new challenge, a debilitating neurological disease that has robbed him of his climbing life and landed him in a wheelchair.
Now Jeff is taking on another awe-inspiring adventure: his autobiographical documentary, Jeff Lowe's Metanoia.
Narrated by acclaimed author Jon Krakauer and directed by Academy Award nominee, Greg Lowe, Jeff lowe's Metanoiauses the Eiger as a backdrop for Jeff Lowe's life story. For nine harrowing days in the winter of 1991, Jeff pieced together what Men's Journal called an "unimaginable" route up the very center of the Eiger Nordwand. This is the story behind a climb–an act of imagination–that has become legendary.
This film explores the incredible life and climbs of this visionary alpinist and ice climber, who continues to be the adaptable man he set out to be in his youth. Discover what lies beneath Jeff's high adventure lifestyle and how years of climbing and living in the present moment, have prepared him to adapt to and live gracefully with, disabilities he could never have imagined.
Jeff's indomitable spirit and incredible optimism both on and off the mountains epitomize a philosophy that celebrates life and the outdoors. Metanoia explores these themes in the iconic setting of the Swiss Alps.
I'm writing you about Jeff's film for two reasons.
First, I would encourage you to make sure you see Matanoia when it comes out.  The photography is superb and the story heartwarming and inspiring.  While I've done some climbing in past years, Jeff's skill and adventures are in a separate class.  When you watch the film, tell me if you weren't riveted to your seat and just hoping that you were roped in as well!  The film will provide a perspective on high altitude technical climbing like none other.  It's almost as if you're there with Jeff, dodging falling ice, trying to avoid freezing water cascading down the mountain and trying to ensure that your next hold isn't your last
The neurological disease that has struck Jeff has taken away his ability to climb and even to appear at public performances to raise funding for his film.  While you may not be a climber, and have no interest in ever doing so, this film is a worthwhile effort.  It's a story worth telling and Jeff could use your support.
The Metanoia Team needs your help to complete this incredible film. Please view the trailer and make a pledge alongside their many individual backers  on Kickstarter.com.  They now have 342 individual backers and over $42,600 towards their goal! For those who contribute to the cause, there are lots of exciting backer rewards (4 nights stay in a luxury Moroccan Riad, a timeshare in Mexico, and a portable climbing wall to name a few). Kickstarter is an all or nothing prospect. They must reach their goal of $125,000 by March 3, 2011 or risk losing what has already been pledged.
You can also make tax-deductible contributions to their 501c3 corporation whose mission is to celebrate the joys of climbing, secure access and preserve the mountain environment.
For more information please visit www.jefflowemovie.com or contact them at info@jefflowemovie.com or 208.630.4477
Be sure to visit their Kickstarter page for information about becoming an individual backer and don't forget to Join/Like us on Facebook at Jeff Lowe's Metanoia – Movie Page
I know Jeff and his team will more than appreciate any support you can offer.  And if you would share this message with your friends, I would be more than delighted!
In Adventure
Ward Luthi
Walking The World – www.walkingtheworld.com
1Stove – www.1stove.org