Who We Are
We are a small team of fellow travelers who search the world over for adventures that help us experience life to the fullest.  Our goal, and our joy, is then developing adventures for you that incorporate active travel in the great outdoors, cultural immersion, and the sampling of some of the world's best food and drink.
Along the way of course, you'll experience untold beauty, make new friends, reawaken some of the primitive joy and wonder that might have gone dormant over the years, feel renewed strength in muscles waiting to be challenged, and touch again that joyous, uplifting sense of being truly alive.
Our Founder – Ward Luthi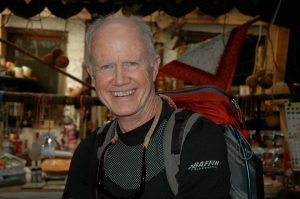 We're guided by our founder and President, Ward Luthi, a life-long traveler
who feels we do best when actively exploring this magical planet using our own two feet.
Why Your Life is what movies are made of.
Movies are an escape – yes – but they often reflect what lies deep down in our own souls:  the need and desire to live fully, to experience life on the edge, to challenge ourselves, to face risk, and rising above our fears, to live fully.
There's a reason why the Hobbit and Lord of the Rings movies have 6 of the top 50 spots in the top grossing movies of all time, why Harry Potter movies have 7 of the top spots and why the Star War movies have 3 of the top spots.
In every single movie, the main characters, facing major challenges and obstacles to achieving their goals, reach deep inside to find the best of who they are. Then with planning and great perseverance, they exceed their perceived limits and go on to save the world, or maybe a prince or princess, but also make their lives their own again.
Adventure at Walking The World doesn't come by riding in a bus or by waiting for life to happen. It comes from stepping off the beaten path to places you might not go on your own.  It comes from exploring the world under your own power.
Think of Frodo and Sam, in the Lord of the Rings, setting out across uncharted territory to reach Mordor at the ends of the Earth.   They walk long distances on many new and strange paths.  They have struggles and adventures they'll remember for life.  But they are fully involved in their lives, not spectators on the sidelines.  They are front and center, even when the weather is bad, they're lost, monsters from every side assail them, and they suffer from hunger.  Still, they keep going, knowing that the result will be more than worth the effort.
Now, we're not going to make you walk as far as Frodo and Sam did, well, hopefully not, but we will ask you to stretch a wee bit – because in reality, it's in the stretching that we grow and have true adventure.
Don't worry; adventure doesn't have to be dangerous.   Adventure with Walking The World might mean hiking four miles to a mountain lake with views so outrageously beautiful words are hard to find, or finding your way to the top of a ridge in Nepal to witness the stunning majesty of the world's highest peak, strolling along fern lined trails in Hawaii to witness up close a volcano spewing molten lava, or sampling a wine unbelievably rich with flavor from a small vineyard in the hills of Tuscany.
Active travel in the great outdoors is one of the best ways we know to bring adventure back into our daily lives.  We invite you to join us by taking that first step.