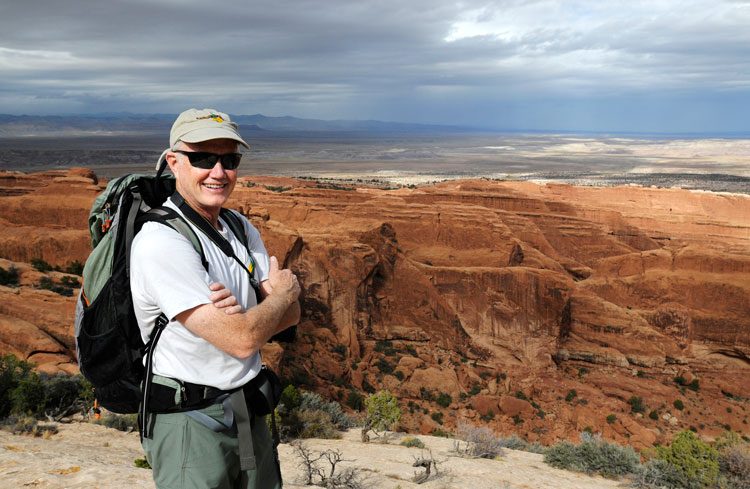 Have you started training to walk a marathon?  If not, now is as good a time as any.
WEEK 1 – Personal Update.   As I mentioned, I've started my own training to walk a marathon.  Last week I walked six of seven days for a total of 23.42 miles.    Total walking time came to 349 minutes for an average of 14.9 miles per hour.   My longest day was 8 miles, my shortest was 3 miles and I took one day off.
Here in Colorado, until today, we've had excellent and mild weather so walking outside has been enjoyable.  As the temperatures start to drop and the snow starts to fall, I'll probably wind up doing quite a few miles inside.  Because I'm able to do my walks outside right now I can use my Garmin Forerunner 305 which has a heart rate monitor and GPS.  This allows me to monitor my heart rate and track my distance without having to follow a set course.  I can walk wherever I want and know exactly how far I've traveled.   The heart rate monitor allows me to know when I'm working in my target heart rate zone and when I'm above or below that zone.  Since one of my goals is to improve my level of fitness I need to keep my heart rate elevated to a certain level for a certain period of time.   One other advantage of using a watch that has both heart rate and GPS, particularly if it's a Garmin or Polar, is that you can upload your workouts to a free online training program that both companies offer.  It's a nifty way to keep track of your progress and see what improvements you've made over your length of your training.
If you decide to walk a marathon, how do you choose a training plan?  Or should you even use a plan to prepare for walking a 26.2 mile course?
No matter what physical condition you're in, if you haven't been walking long distances on a regular basis, I'm going to suggest that following a plan is a good idea.  In any training plan, you'll start off slowly and gradually build mileage until you reach a level that includes at least one day a week that includes and extended distance up to about 20 miles.    At a four mile per hour pace, or 15 minute per minute miles, you're going to be on your feet for a minimum of 5 hours.  While you may be able to go out right now and walk for 5 hours, you'll probably fare better if you develop a strong base of walking before asking your body to walk 20 miles.
Having a training plan also helps provide structure, and discipline and motivation, and helps make walking on a daily basis a habit – a good one!
So, how does one choose a training plan for walking a marathon?  The easy answer is that you choose one that seems to best meet your personal walking style.  While every plan is different, most have you start out slowly and build to a point where your longest day each week is around 20 miles.  That being said, some have you walk six days a week with one day off while others might have you walking only three days with four days of rest.  You might try several different techniques and see what your body responds best to.  Personally I like walking every day.  I will take a day off if I'm feeling tired, but normally once I start training my body feels the need to walk on a regular basis.
I use a plan by Dave McGovern, a national racewalking athlete and coach.  I've taken a race walking course with Dave and like his style.  Because Dave is a long time walker himself and because he's competed in reacewalking at the national level, I know he understands the ins and outs of training for long distance walks.
I've listed a few training plans you can review to see if any fit your preferences.  Your can also search the internet to find your own.  After you've chosen one and started your training, I invite you to share your experience with our readers.
GOOD WALKING!
Ward Luthi
Walking The World – www.walkingtheworld.com
______________________________________________________________________________