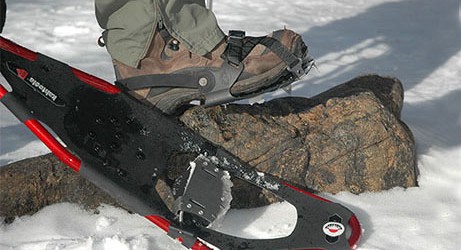 Walking on Water with Kahtoola's MTN Snowshoes!
When I stepped outside this morning, I could feel the warmth in the air.  Even though it's January in Colorado, the temperatures were supposed to climb into the 60's in my hometown of Ft. Collins, Colorado.  And with the forecast calling for relatively light winds, I figured it was a good day for an adventure in one of my favorite local destinations, Rocky Mountain National Park.
Of course, since it IS winter in Colorado, I'll need to practice my techniques for walking on water – or as some call it – snowshoeing.  Now I know I'm taking a bit of liberty here with the definition of walking on water, but technically, since snow and ice are forms of water, I AM walking on water.  I suppose one could call my winter excursions "walking trips on water".
Good thing with Kahtoola's MTN snowshoes
Kahtoola, an innovative winter product company based in Flagstaff, Arizona, had earlier provided me with a pair of their MTN snowshoes to test.  You might also recognize some of Kahtoola's other standout products:  MICROspikes, KTS crampons and the RNR Lightweight Running Snowshoe.
I figured this was a good day to see how the MTN Snowshoes performed on trails that were snow packed and in off-trail situations that were a mixture of windblown and loose snow.
And what a glorious day it was.  The temperature gage at the Bear Lake Ranger Station in RMNP showed 40 degrees.  With clear, sunny skies it was a great day to be cruising through the snow beneath stately pines.
Kahtoola's MTN snowshoes are an ingenious two part design that combines an 8-point crampon with a lightweight snowshoe.  As a system, I can now carry "one integrated piece" rather than a separate set of full crampons as well as snowshoes.  So I save weight and space in my pack.
Kahtoola's MTN snowshoes have a patented width adjustment system that allows one pair of snowshoes to be worn comfortably by anyone from those with small feet, think a size six women's running shoe, to a size14 insulated men's boot.  As anyone who has worked with footwear can attest, developing a lightweight workable product that fits this wide a range of feet is remarkable in itself.
The Trail Crampon
The trail crampons are basically like the front-half of a full set of crampons, with 8 teeth that are longer and wider than the teeth found on Kahtoola's MICROspikes but smaller than the spikes on most regular crampons.
The back two teeth of the trail crampon are serrated and the two teeth that lock into the spring system on the snowshoe are notched.
To step into the trail crampon with your boot, first adjust the width of the crampon to your boot.  The directions for doing this come with the MTN snowshoe and should be done at home rather than on the trail.  Because some of the parts needed to adjust the trail crampon are quite small and require a wee bit of dexterity, you should adjust the width at home.  Trying this on the trail in cold weather over loose snow is not a good option although it can be done.
Adjusting the strapping on the trail crampons is relatively easy to do and Kahtoola has provided a stretch band on the front of the crampon to lock down any excess strapping and a plastic clip on the back of the crampon for excess heel strapping.
The only part that is sometimes challenging on a cold day is making sure the rear strap that goes around your heel locks into the cleat on the metal buckle used to tighten the straps around your heel.
To click the trail crampon into the snowshoe deck, first make sure that the bars in the deck are visible.  If they are not, you won't be able to click in.  This is simply a matter of remembering to reset the bars.  This can easily be done by pulling the "reset" tab which you can see in the photo.  Then it's a simple matter of lining up the notched teeth in the trail crampon and clicking into the snowshoe deck.
To click your trail crampons out of the snowshoe deck, simply pull the "t-handle" and step out.  Voila!
Thoughts:
Having adjustable wings on the trail crampon allowed me to fairly precisely fit my boot into the trail crampon, making the crampon feel like it was built into my boots.  I liked the lightweight feel of the trail crampons and when clicked into the snowshoe deck, it was one of the most comfortable fits of any pair of snowshoes I've worn.
The lightweight and streamlined design of the snowshoes allowed me to walk quickly and easily on most surfaces, including the frozen lakes I crossed.
Clicking the trail crampons into the snowshoe deck was an easy process and made switching from trail crampon to snowshoe a breeze.
The MTN snowshoe does not include a heel lift bar for steep sections of trail or teeth along the bottom sides of the snowshoe for more secure travel on slopes.  However, overall the system worked well.  I had my ice axe so if I needed extra support on the slopes or going uphill I had it.
When using the Trail Crampon by itself, you'll want to keep in mind that it's basically only the front half of a regular crampon.  You'll have no base and no teeth on the bottom back half of your boot.  Going downhill or traversing slopes will require more care than with a traditional crampon.  Overall, for most situations though, I felt secure.
I do a lot of walking whether it's winter or not and I liked the ease of movement I had with the MSN Snowshoes.  Regardless of the terrain, I was able to move easily and quickly without feeling like my equipment was hindering me or without that "sluggish" feeling of some systems.
Being able to easily and quickly switch from trail crampon to snowshoe was a definite plus.
Conclusion:  An excellent system I would highly recommend.
Ward Luthi
Walking The World
info@walkingtheworld.com
Kahtoola, Inc.
431 River Run Road, Flagstaff, AZ 86001
Toll-free: 866.330.8030
www.kahtoola.com